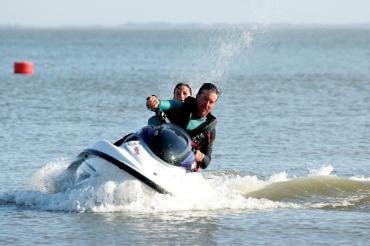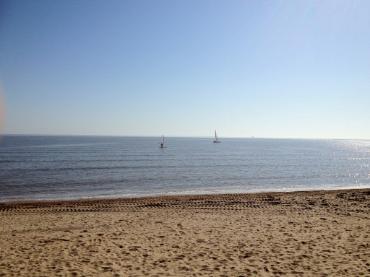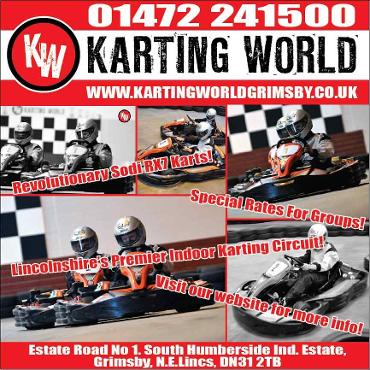 JET SKI
Bring along your jetski for fabulous fun on the Humber.
or
THE LINCOLN ADVENTURE CENTRE
Thorpe Lane, South Hykeham
open Easter - October
Jetski hire, canoeing, kayaking, power boating
WINDSURFING
Cleethorpes has a small friendly club based right next to the beach in Cleethorpes.
When the tide is high, the sun shining, the wind blowing in your sail, Cleethorpes is a great place to experience the thrill of windsurfing.
The beach is safe and sandy, most of the time you are sailing in water well within your depth, (making it a great, safe location to learn); when the tide is in we can sail in between the CleethorpesLeisure Centre and the Cleethorpes Pier, giving you vast amounts of clear open water. With a great setting, where you can see across to Spurn Point, the Humber Forts, watch the birds flying by and the various ships sailing along the Humber. All year round sailing, Cleethorpes takes some beating.
The R.N.L.I. Station is within view when sailing. Cleethorpes beach has a Blue Flag for water quality, and has also been awarded the quality coast beach award.
The club was founded in 1980 by twelve local windsurfers, and is located near to the Leisure Centre. It has secure premises with a grassed area for rigging up, washing facilities, two electric showers and storage for boards and sails. After a windsurf, all that is required is to hang your wetsuit out to dry, until the next time.
New Members are welcome, and even if you have no experience / beginner with no equipment, we have club equipment and lessons are given to help you on your way to discovering the great outdoor sport and the thrill of Windsurfing.
For details of membership or any aspect of windsurfing at Cleethorpes please contact David Beer on 01472 349585
For all your surfing supplies, clothing, boards, scooters, canoes take a look at www.reefrash.co.uk or call 01472 690098.
Happy sailing!
POWER KITES AND KITE BUGGIES, KITE SURFING
takes place in the area of Cleethorpes each called Anthonys Bank. A site to behold. If you are not taking part in this dare devil activity then just take your fish and chips, sit on the seawall and watch the amazing stunts and speeds these sportsmen can achieve.


The home of Cleethorpes kite surfing club. Pay attention to the signs on the beach. Beach safety service (yellow Jeep): April to September: 9 to 5:30. October to March: 9 til dusk. First aid: 01472-323356. Kite zone: 200m to the left of the public zone. Buggy zone: 500m to the left of the public zone. Local by laws agreements with the council: Do not to ride in front of the leisure center and to the north side of it. Follow the kitesurfers codes of conducts as agreed with the North East Lincolnshire Council, it's advisable that you carry proof of your kitesurfing insurance when visiting the beach. To the south is Donna Nook ,Ministry of Defense still maintains part of the area as a bombing target range (under no circumstances should anyone enter the bombing area when red flags are flying. If you see unsafe or stupid behaviour, have a word or tell Beach Safety.
For Kite surfing lessons at Cleethorpes please see:
http://www.eastcoastkiteboarding.co.uk/
Humberston Beach, Cleethorpes - the perfect place to learn kitesports. Have a go at power kiting on the beach, with family, friends or on your own and meet like minded enthusiasts! Take the option of progressing onto the water or advance your skills on land - the choice is yours. Check out our website for more info or give us a call to arrange, we can tailor your needs for a safe, fun and enjoyable day!
Call Steve 07876340088 or Rachel 07788805284
BMX
Cleethorpes is lucky enough to have one of the worlds best BMX Trails.
Full details of Trails, skatepark and Racetrack can be found on www.gypobmx.co.uk
PAINTBALLING, QUADS, LAZERTAG,MINI TANKS, SHOOTING
Elsham Paintball has lots of extreme activities and is open all year in all weather. Call to book 01652 680019.
15 - 20 mins drive from Cleethorpes down the A180.
www.elshampaintballgames.co.uk
CAISTOR QUAD ADVENTURE,
Quads, Buggie treks, Highrope Adventure, Zip line, Climbing wall, Trapeze, Archery.
Plantation Lodge, Holton Road (A46), Nettleton, Lincs, LN7 6AW
01472 859391 OR 07783 349958
www.caistorquadadventure.co.uk
All safety quipment and waterproofs provided
Safety briefings
Quads-track manager is a qualified instructor for the European ATV Safety Institute.
All marshals have completed Easi Rider Course
Delicious hot and cold refreshments provided.
INDOOR KARTING
01472 241500